This Back Issue Is Sold Out and No Longer Available
Featured in this issue: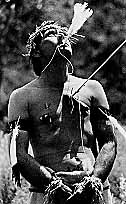 SUNDANCE: A RITE OF PASSAGE, Informative article on this Native American body ritual. Feature includes: background, personal experiences of Sun Dance by Fakir and Puma, answers to frequently asked questions about the Sun Dance, references to books on the Sun Dance and illustrations of three types of Sun Dance.
BETTIE PAGE BONDAGE, A photo feature with Bettie Page "look-a-like" Fashia Fontaine in many classic bondage poses associated with the famous 1950's model. Our Body Play look-a-like is dressed in period lingerie, wasp corsets and wears six-inch high heels. Her bondage torments are orchestrated by world renown Domina Cléo Dubois.
PRETTY FEET AND HOW THEY ARE MADE, Some of the aesthetics and methods for modification of feet are covered in this well-illustrated article. Includes: anatomical finepoints, compression of toes and bending of arches for ultra high heels, training for ballet toe-down shoes, use of "footbenders", classic method of wrapping feet for Chinese "Gilded Lilies" (bound feet). Photos of Annie Sprinkle and other's with "pretty feet".
TORTURE KINGS, Photo feature showing "The Torture King" (Tim Cridland) and Erik Dakota with long stainless steel rods pierced through the face and chest in the style of Sufi mystics who practice this kind of body ritual for self mastery and spontaneous transmission of painlessness. More on this subject can be found in Issue #10, "Worship Through the Body".